Spring season is full-on - so are our product testers!
Summer is upon us, and we know many of you are eager to get more of those warm season runs in. Sportamore's test group has just reviewed 3 of today's most popular running shoes, so you can make better choices easily.
Our test group is a mix of passionate runners, with different ambitions and experiences. They've been putting these shoes to the test through rigorous training and exercise. This time, our runners have been running in shoes from Nike, Adidas and Saucony for a test period of 2 weeks. Read on to find the results!
adidas - UltraBoost 21
Summary of the shoe
The UltraBoost 21 is a running shoe for those looking to find a highly comfortable, yet stable shoe with good heel cushioning and shock absorption for runs on varied or harder surfaces. The shoe is well ventilated making it well suited for almost all seasons.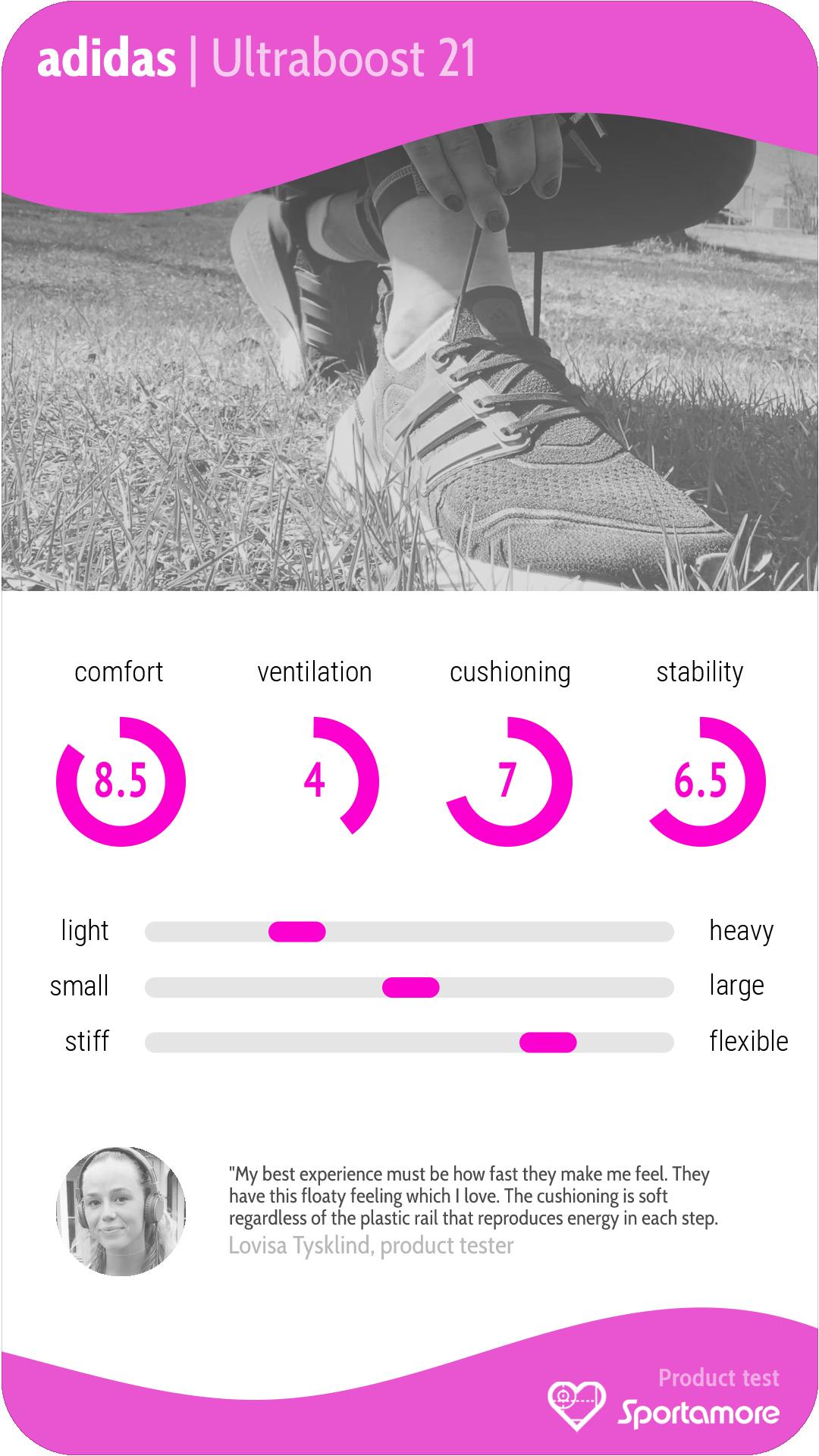 How it was tested
The Ultraboost 21 was tested by multiple runners for long and short distances, as well as intervals over various terrains (forest, beach, asphalt, treadmill..) on sunny and rainy days.
The best part of the shoe
The answers were quite varied, but many had to do with the great cushioning and stability of the shoe. They gave a feeling of floating above the ground, like being incredibly light on your feet. The plastic rail which produces energy in each step was noticeable and a good added boost for longer runs or sessions when you're trying to beat your previous best time.
What could have been better
Overall nothing that needs to be improved, but one of the runners experienced that the forefoot cushioning was a little too light leading to strain on the bone membranes.
Saucony Triumph 18
Summary of the shoe
This shoe is the shoe for those of you who enjoy longer runs. The shoe is slightly heavier than what our testers were used to, but they all agreed that the cushioning and the softness of the shoe was excellent. Comfort is key when running long distances, and the Triumph 18 is proof that Saucony has really performed on that note with this model.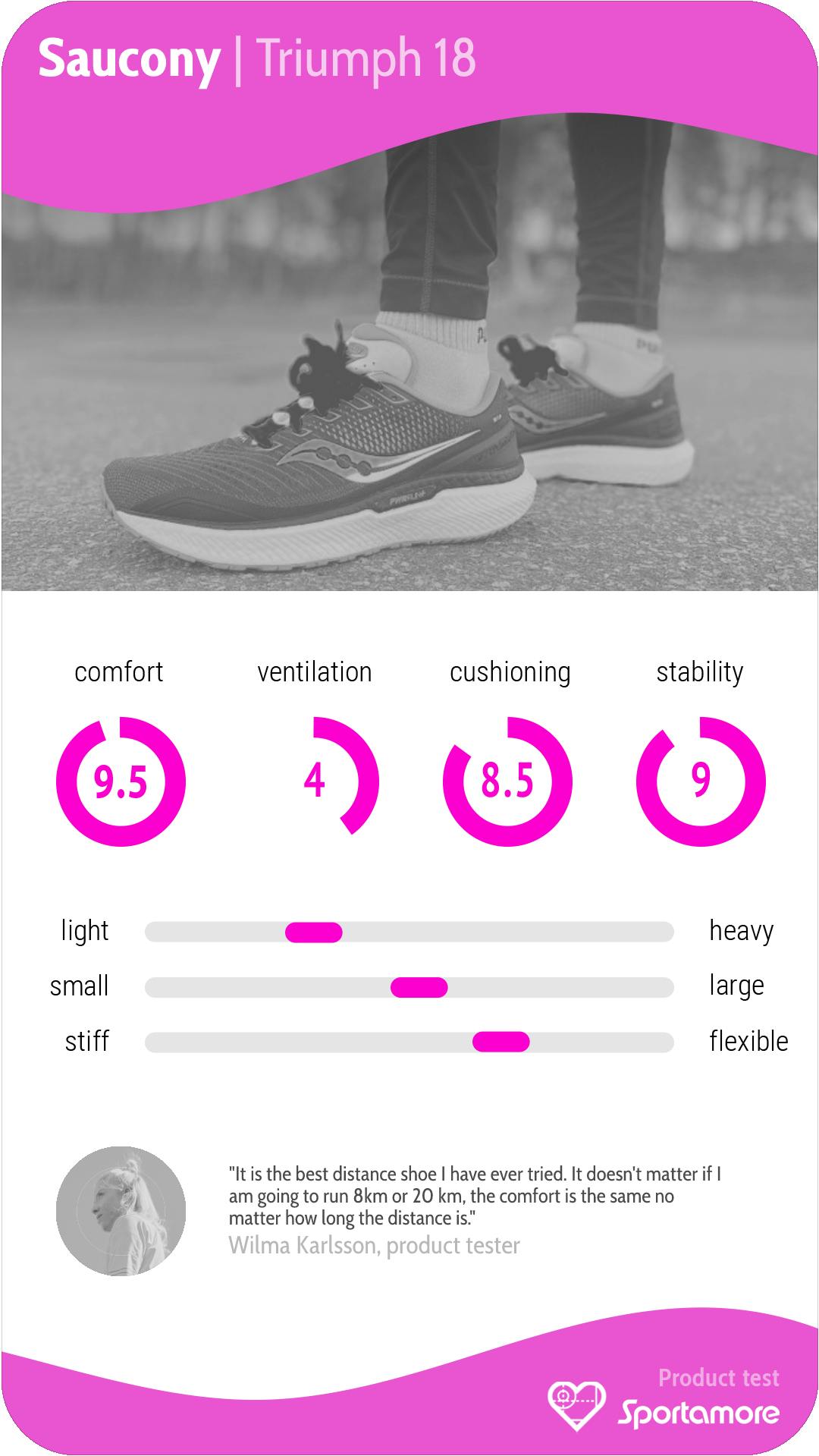 How it was tested
The Triumph 18 was tested in several different weather conditions such as sunny, rainy, windy, and even snowy and sandy ones. Our testers also tested them on a treadmill. The results show that they resist water fairly well, and that keeping good technique was easy no matter the terrain.
The best part of the shoe
The comfort, no doubt. Our testers all agree that this model is super comfortable and that it stays comfortable and gives you the support you need for longer runs and changes of terrain. The leashes are soft and the shoes are easy to tie. The Triumph 18 is really a game-changer if you're used to running in neutral shoes.
What could have been better
The midsole is very responsive and it's a shoe that works great for all-round running. However, our testers do admit that there might be better shoes on the market when wanting to really hit that speed.
Nike Pegasus 37
Summary of the shoe Nike's Pegasus 37 is a soft and highly comfortable shoe that gives a lot of energy in every step. A lightweight and great all-around running shoe for any runner. Scoring highly on almost everything, it's a safe choice for anyone to try. Make sure to wear thin socks during the summer in these shoes as they have good ventilation for spring or autumn weather.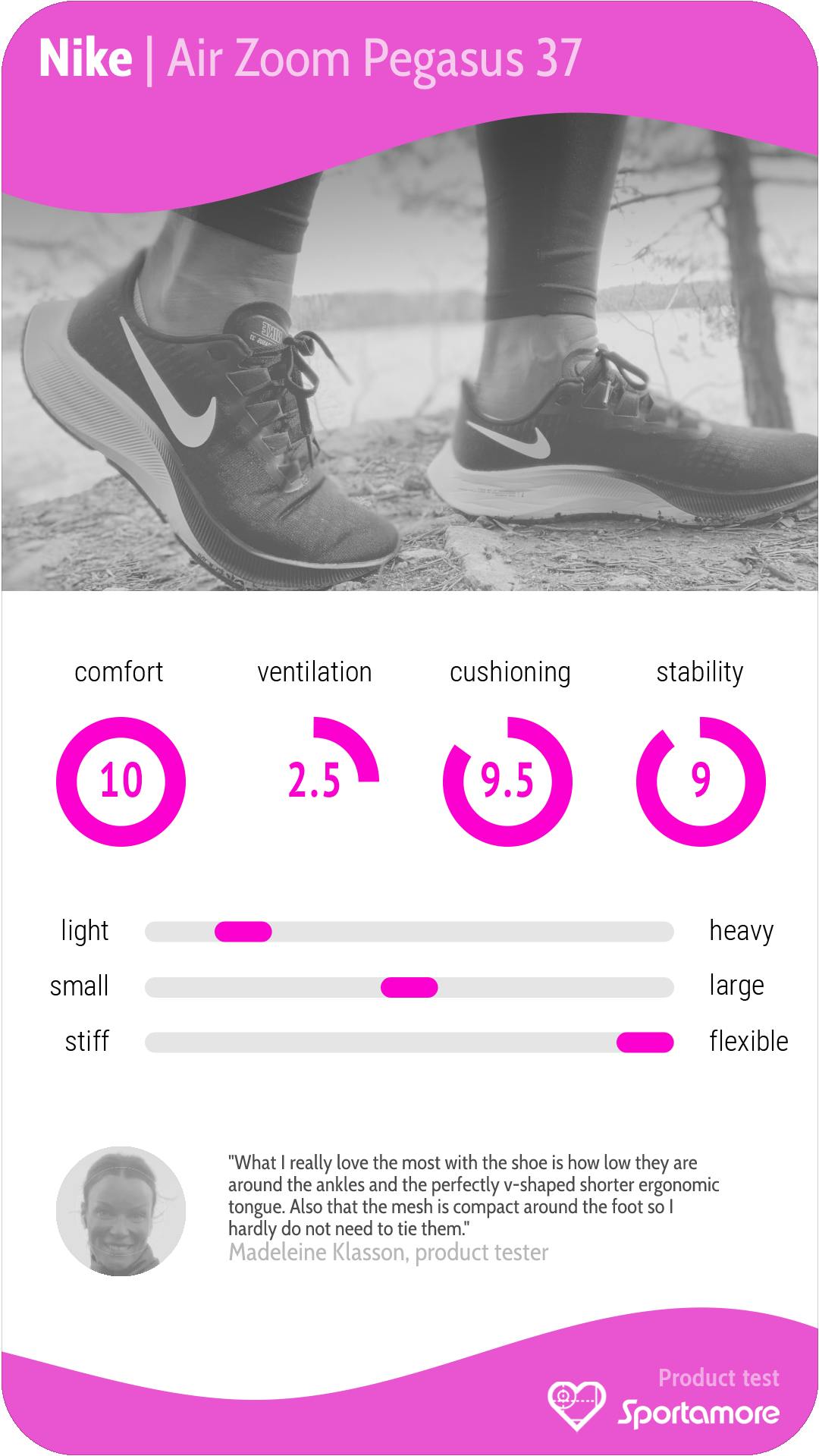 How it was tested
The Nike Pegasus 37 were tested during walks, shorter runs and temp sessions as well as longer runs out in the forest, gym, gravel roads, asphalt and running tracks. These activities took place during sunny and rainy days and the shoes even made their way into the paddle court because of their comfort.
The best part of the shoe
Comfort. Our testers loved the softness of the shoe and the energy return it gave them in each step. A little curveball was that the compact mesh around the foot was super flexible, providing a snug fit. One tester experienced barely having to tie their shoe, a great bonus when you need to head out the door quickly. Additionally, the shorter v-shaped ergonomic tongue was really appreciated.
What could have been better
Be careful when walking down stairs as the v-shaped sole can take some time getting used to.