Reebok has been developing many new exciting products recently with cool new features that can boost your performance. Hence, we just had to test them for you!
Going through the entire kit, from top to bottom, we hope you'll find something of interest. Read on and discover the tips and product performance scores our product testers have to share with you.
First off, what did our testers think about the kit as a whole?
It did not come as a surprise that our testers enjoyed the shoes (Nano X1) and the tights the most. The tights are described as super (!) comfortable yet that they stay in place, and the shoes are great for versatile use. The t-shirt and singlet also scored very high (9,25) in comfort, and the padding in the sports-bra got a high score of 9 - ie. perfect if you're into HIIT training such as CrossFit, or running.
A bonus is that all testers agreed that a new pair of shoes or a new training kit definitely brought them a new dose of motivation to head to the gym!
A versatile workout shoe made for functional fitness. Stable for weightlifting, yet breathable for sweaty sessions.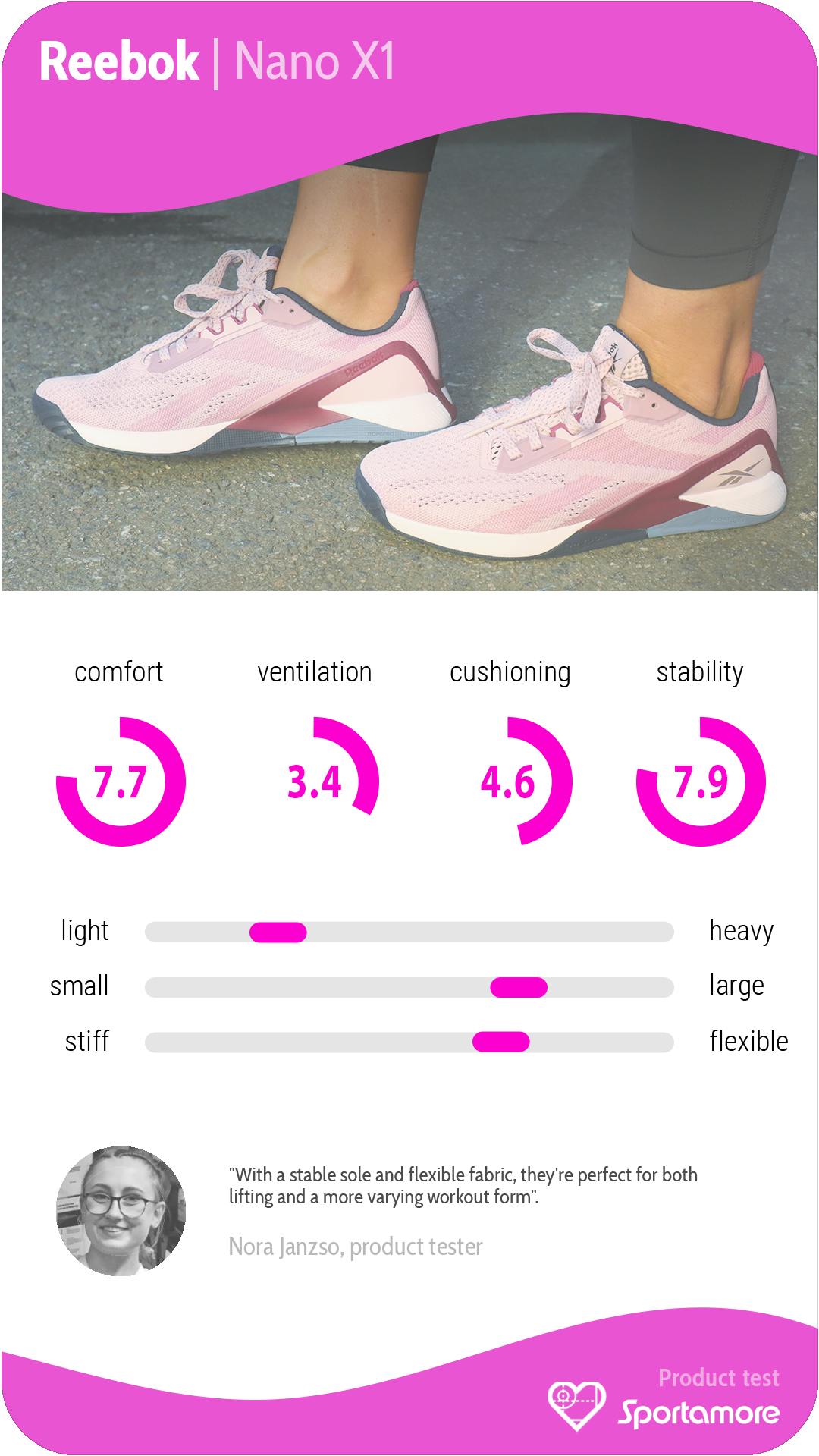 What was the best part of the shoes? When only looking at the numbers, comfort and stability scored the best on the Nano X1. What our testers told us, is that they also like the breathable fabric - especially considering the warm summer that's just passed us. They agreed it is indeed a versatile shoe. Having mainly tested black and white shoes previously, they also appreciated a little color! Even that can apparently increase motivation. :)
What could have been better? The cushioning. Even though our testers are aware the shoes are not made for running sessions, some wished - particularly our Crossfitters - that they would have been a bit more cushioned. Some also said they were a litter bigger in size than they'd expected.
Figure-flattering tights with a sweat-wicking effect, though soft-cotton feeling. These tights are mid-rise and according to our testers, they stayed in place during their workouts.
What was the best part of the tights? The fabric flexibility; these ones were described to feel like a second skin and we're told they were worn a lot even outside of the gym! However, our testers did not completely agree on these tights as some of them told us they absolutely loved the soft feel and comfort of these tights, while others seem to have wanted a less "heavy" feel and more compression.
What could have been better? As the design is obviously to taste, some testers agreed that they liked the Lux High Rise option better, which they also tried. Some of the others really enjoyed having some pattern on during their workouts and we have to agree, we absolutely love it, especially for fall!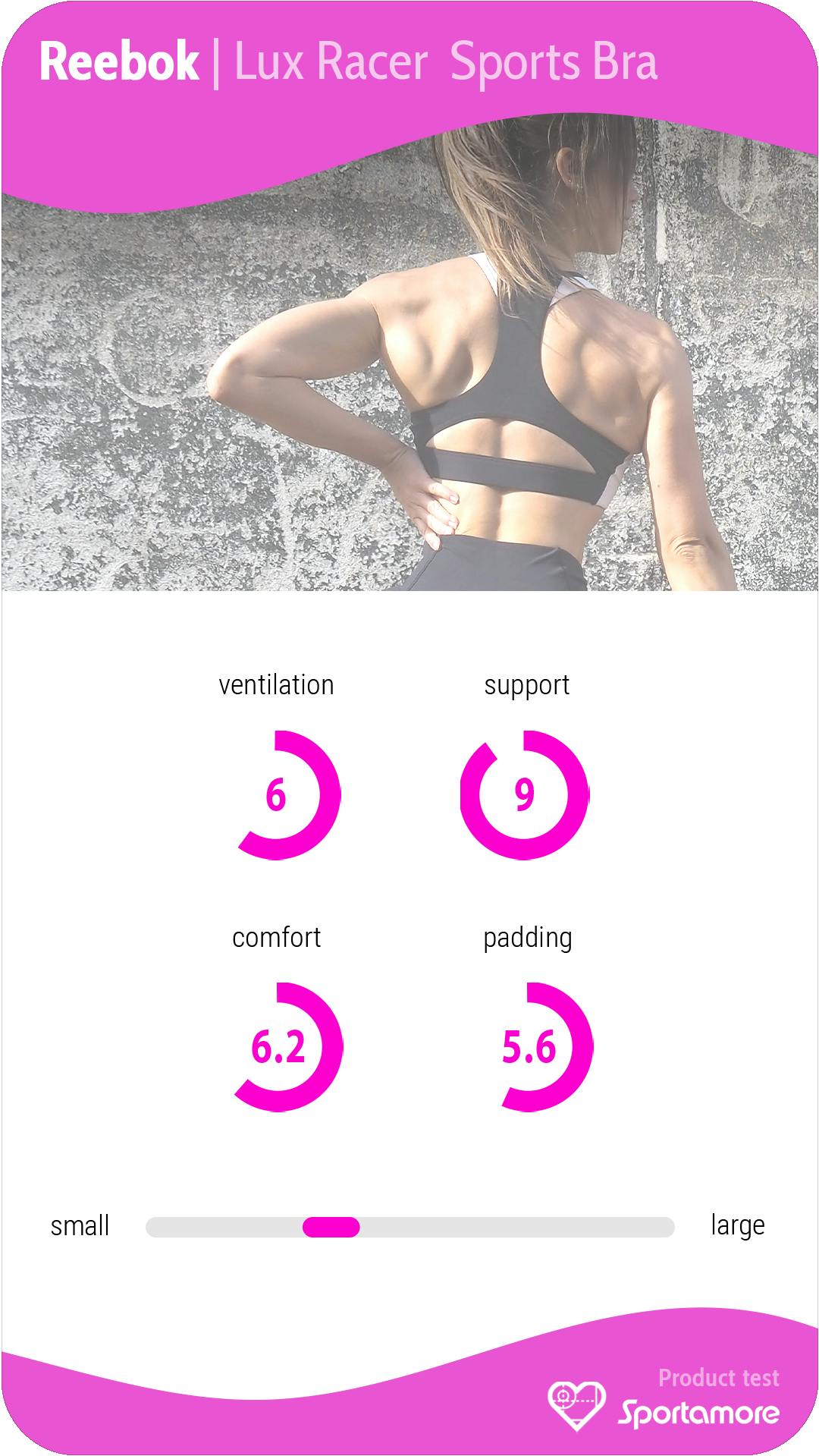 A medium impact workout bra with a racerback design (although our testers have impacted that the support might be even higher than so). The speedwick fabric helps you stay cool and dry during your workouts and the removable pads provide more coverage for those who like.
What was the best part of the sports bra? The support. As the majority of our testers enjoy quite intense and sweaty workouts, we can only assume they're right when they tell us this sports bra offer a good support. They also appreciated the design - classic in the front and the racerback with that little extra.
What could have been better? The ventilation of this bra could have been better, as the comfort. We understand the dilemma: a hot summer makes our testers sweat perhaps a bit more than usual, i.e they wished for a more breathable material for better comfort. We recommend choosing this sports bra for indoor training, and perhaps not to choose this one specifically for your endurance workouts and instead for weightlifting, strength training and/or for times when your boobs might just want that bit of extra support.
T-shirt and singlet, both made in sweat-wicking material and with at least 30% recycled materials. They are very similar, our testers agree. However, they also agree that the t-shirts offer a bit more of a looser fit, compared to the singlet.
What was the best part of the t-shirt and singlet? The t-shirt and the singlet both scored very high on comfort and ventilation - the sweat-wicking material really does what it's promising. They are both super light and breathable - perfect for sweaty workouts!
What could have been better? Even though this is highly individual, some of our testers would have wanted their t-shirt/singlet a bit shorter for a better fit. As mentioned, the fit of the t-shirt is more loose compared to the singlet. If you like more of a tight fit, we recommend going down a size.
Overall, how did our testers enjoy the Reebok Kit?
Our testers mention that they are most impressed by the comfort of these training clothes. We all know that during these times, training clothes come to use even outside of the gym. They also tell us that "Reebok really hit it this time with the color combinations" - design and feeling your best is truly a motivation boost for training this fall!
Find more from Reebok here