You might have seen her in August at the U23 Swedish Championships, "JSM", where she not only took one gold medal, but three. We've met with Lovisa Bivstedt, the 20-year old talent who shares her best tips on what to do when motivation is lacking, how to think when aiming to perform, as well as details on what she looks for in new running gear.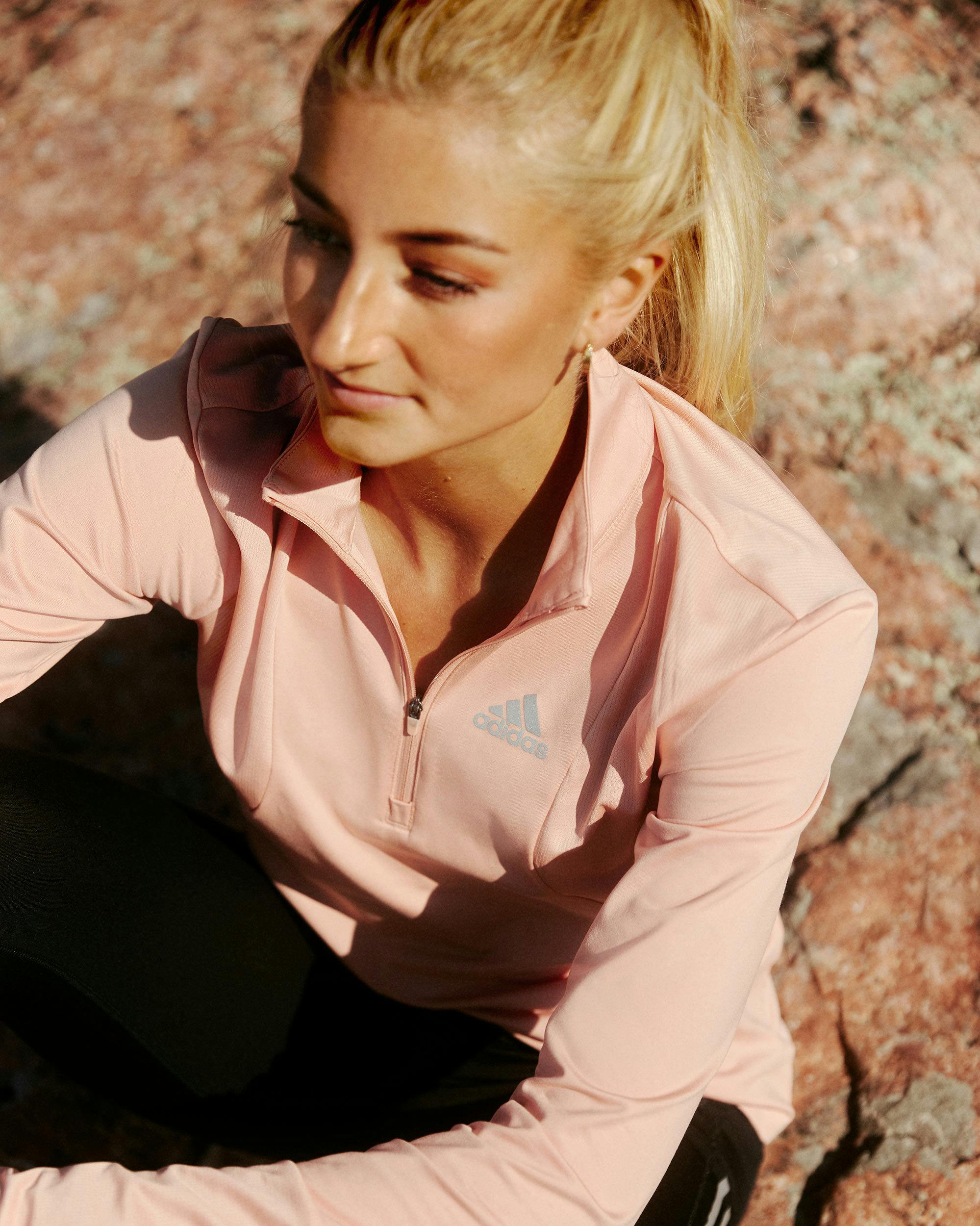 Lovisa Bivstedt, 20 years old
Running: Primarily 400 m, 800 m and 1500 m
When not running: Studying at Handelshögskolan in Stockholm
Here: Fronting the adidas Running collection
Instagram:
We all have our different stories about why and when we started to really love running. For Lovisa, the passion has always existed and grown within her family. Born and raised in Stockholm, she started running really young - inspired by her brother and sister. "I ran my first Mini Marathon when I was 6 or 7, and won." Perhaps that was what really kicked her off and lighted that spark within. "In fact, I've won all the Mini Marathons since my first one", she says remembering what seems to be a very fond memory.
Focus ahead
It's clear that her passion is still glowing, even though her main focus is somewhere else than those Mini Marathons these days. Lovisa is currently focusing on middle distance running events; 400 m, 800 m and 1500 m races with the 800 m as her primary (and favorite) distance. In fact, she hit a new PB this summer and ran the first time under 2.07 minutes. With a time at 2.06.96 she tells us that this was one of the highlights of her summer - and her career.
"I hit my PB at a competition in Gothenburg this summer. It was actually the weekend before JSM, so that was absolutely a nice motivation boost before going there". She continues and shares her long-term goal of running the 800 m distance under 2 minutes. "Right now I'm focusing more on goals set for a shorter term, but that is definitely a long-term goal to achieve".
Another long-term goal for the young talent is going to the Olympics. "There's one in three years, and of course it's a goal of mine". Right now, I might not be quite there, but you have to believe it's possible. If not that one, there's always another Olympics ahead of that. I want to compete in the Olympics at some point, that's for certain".
Proudest moments:
2017 - EYOF, European Youth Summer Olympic Festival
2018 - European U18 Championships
2019 - European U20 Championships
2021 - U23 Swedish Championships. (Gold medal in 400 m, 800 m and 1500 m!)
Apparel and choosing what to wear this season
When meeting with Lovisa, she's trying out the Ultraboost 21 in a vibrant new colour and gives us a good review on the shoe. "I run in different kinds of shoes depending on the purpose and terrain. I run quite a lot in the UB21 actually and it's a really fun shoe to be running in!" When running for more distance, the most important factor in her shoes is that they are built rigid with a stable foundation, as well as good cushioning to prevent injuring your joints. "I think the Ultraboost 21:s are very good for your feet while at the same time giving you a nice bounce!".
She points out that choosing what to run in, comes a lot down to your personal preferences. When it comes to clothing, she says she personally prefers going for breathable options as it's more functional and more comfortable during sweaty sessions. "If you're like me, perhaps look for other materials than cotton". She then adds: "And oh, your tights should stay in place! It's so frustrating when you have to stop and pull them up during your run". She also tells us that she appreciates the often recurring pockets in the latest adidas Running collection. "It's so convenient to be able to keep your phone there".
Even though she's aware these preferences can differ from person to person, she happily shares a tip for all fellow runners out there. "I think a common mistake is that you put way too many clothes on. I usually just go for a t-shirt or a singlet, and then perhaps a jacket I can take off if I need to".
Read more about the UB21 here
Now that you're in the middle of your season break, what is there to look forward to?
"During fall I always try to squeeze in a few terrain races, mostly because it's good training - and fun!" Now she'll be focusing on recovering from this season, and then look forward to working hard towards those goals. Running isn't everything, though. Lovisa gladly goes cross country skiing in the Winter and has been so every season since she was just a kid.
Team up with your friend to keep motivation on track
We talk about the challenge of motivation, and perhaps not always feeling at your best. When training the most, she hits around 10 sessions per week, and during competition season around 6 or 7. Thankfully, she has a few favorable tricks under her sleeve when motivation is lacking. She shares her tips:
- The biggest help she says is definitely training with a group of other runners. When you know you have your training friends there, going there becomes much easier and almost goes on autopilot, she says. "Team up with others and decide beforehand, that way it gets easier to go there".
- If possible, get a coach's perspective and support. "I'm training with a coach and we have a really good connection". We talk every day and that also helps with motivation".
- Set goals and work towards them. And then, of course, I think about my goals and know what I need to do to get there. That way, you don't have much choice but to continue even when it might feel a little tough".
- "Another thing I've noticed that people tend to be (perhaps sometimes, too much) cautious about is eating, especially carbs. I try not to be afraid of eating. My body needs the fuel and is pretty good at telling me when I'm full or when I need more". Enough food is key to perform and keep motivation at pace.
Lovisa is collaborating with adidas, fronting their adidas Running Women collection.
See the new collection here.