Kari Traa - the leading brand within base layers for women in Scandinavia.
What makes it so great? Not only is it made in a vibrant-looking design and with great functionality regarding regulating heat and wicking moisture, but what makes Kari Traa so unique is that all base layers are developed, sewed and made specifically for women. It has a wider site cut than other traditional base layers on the market, as well as extra space for the bust. Kari Traa is made for women - by women.
Colder seasons are upon us, and for a lot of us, that means changing into warmer layers. For years, Kari Traa has been dressing according to the three-layer principle* which places wool on the inside. Even though they are in constant search for other technical fabrics, their Merino wool has been proved unbeatable with its natural benefits. Below are four reasons why investing in a Merino wool base layer is a good idea.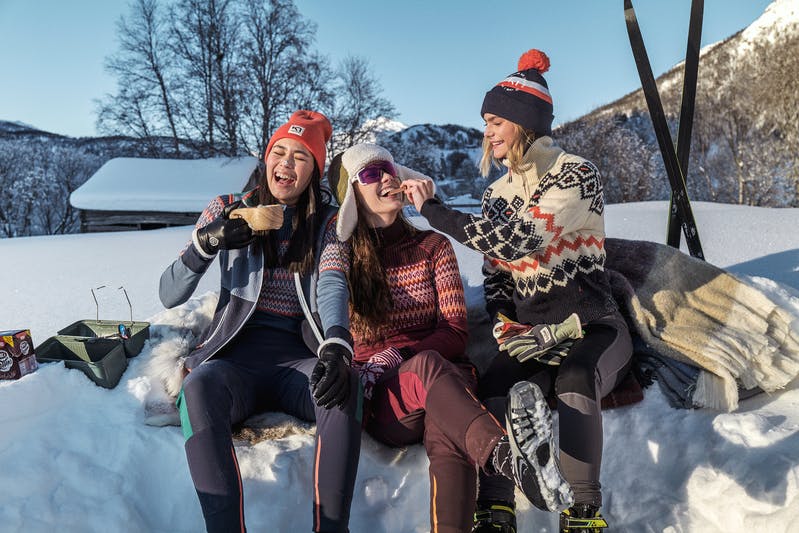 *The three-layer principle, well known and often necessary for sudden weather changes. The first layer consists of a base layer to insulate body temperature and wick moisture. The mid-layer is an additional warmth-insulator, while the outer layer is meant to protect you from rain and wind.
1: Perhaps the most obvious: it keeps you warm!
In comparison to synthetic materials, wool has the power of insulating warmth - even when it's damp. As a matter of fact, wool can actually hold up to 35% of its own weight in moisture before it creates a wet feeling. Wool is perfect to avoid that freezing sensation after you've sweated up that hill or during your winter run.
2: It also keeps you not warm…
Okay, we know how contradictory this sounds, but wool does not only have the ability to absorb moisture and initiate a process to generate heat when it's cold out - but also keep you cool when it's hot. In warm temperatures, wool ensures that your body temperature stays cool. "How?", you may wonder. The answer is in the same way our body works - through evaporation. Because of its temperature regulation quality, wool is a great option for warmer days as well, just change into a thinner layer. [Image] When choosing your base layer, go for a size fairly tight so that adding other layers on top becomes easy when necessary.
Rose Pants. Available in high waist, regular waist and Capri - all in multiple colors.