For those of you who are curious to add some more variation to your regular Wednesday run in the park, or your morning run on the treadmill, trail running might just be the right thing. Since trail running is basically running anywhere on an unpaved surface, you might need to consider what to put on your feet. Would your regular running shoes work, or do you need to upgrade to something a bit more stable? Let's find out. This guide might help you choose the right trail running shoe for your purpose and place.
What's the difference between a regular running shoe and a trail running shoe?
A trail running shoe is a running shoe specifically developed for running on trail, or terrain. The biggest difference when comparing to a regular running shoe is that trail shoes often have a different outsole giving the runner a better grip and stability, which is necessary when running on surfaces with a more irregular character. Not only might you want to protect yourself better from cold or wet weather, but also take extra care of your joints.
How do I know which ones to choose?
Aah, the million dollar question. ;) First, ask yourself where you want to run. If you run primarily on soft terrain, choose a shoe with less cushioning. However, if you for example run on asphalt to get to your trail area, you will benefit from a little more cushioning. For runners who aim to compete, the weight of the shoes might be a factor to consider - in races you want your shoes to be light for energy efficiency.
Second, be true to yourself: how experienced are you? If you're fairly new to trail running, you might not actually need to get the most advanced shoes. To make the transition from regular running shoes to trail shoes smooth, you can go for a pair with more cushioning, good stability and a higher drop. As you gain more experience and confidence in trail running, you can transition towards a harder sole and lower drop.
Below are three different types, good for different occasions. Let's take a look at their different features.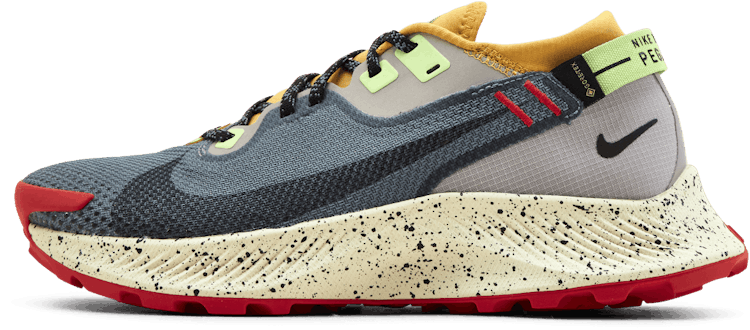 Nike Pegasus Trail 2 GORE-TEX - If you're that runner who doesn't mind the perhaps less-than-ideal-running-weather, this is a great all round running shoe that features a good fit for multiple levels of experience. It provides a waterproof design for those rainy days and muddy terrains, as well as good traction at the heel to keep you steady when going up- or downhill. Being cushioned, Nike React foam provides a comfortable fit and feel. And hey, it's perfect if you're eager for that next wet-weather run as it's quick drying!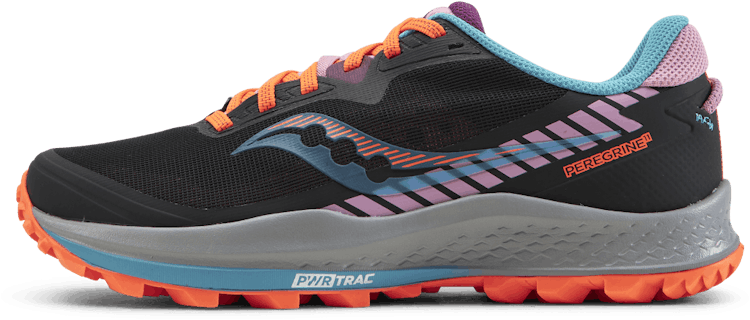 Want to work on your speed while running in rugged terrains? Saucony Peregrine 11 offers an ultralight experience and a multifunctional shoe. With its foundation made with PWRTRAC rubber, you can count on a solid grip in a wide variety of terrains. Inside the outsole, a carbon fiber fabric has been integrated, protecting your feet from sharp rocks and roots as well as distributing pressure while running. With its durable top layer and PWRRUN cushioning, nothing will snag your speed!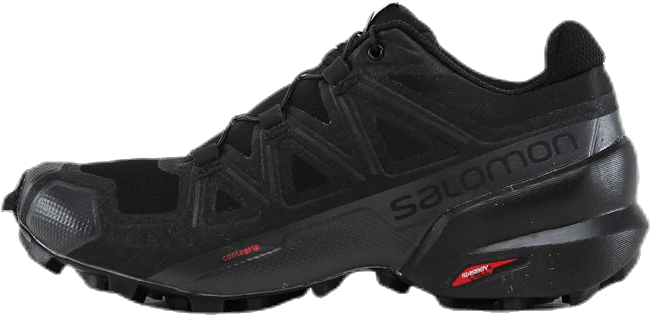 Made specifically for muddy and soft terrains. The Speedcross 5 has larger lugs than its previous model, delivering an improved grip on surfaces like mud or loose dirt. It uses a completely welded upper with dissociated sensifit arms resulting in a natural movement with your foot and a comfortable fit. If you're not the biggest fan of running in the rain, but can't wait until the ground is dry; this might be your go-to. (The Speedcross 5 also comes in a model with Gore-Tex, if you can't stop yourself in rainy weather either.)
Ok - so if I go for any of these, can they be used in both Summer and Winter? Generally, you could in fact use the same shoes during summer and winter time. Gore-Tex is a good option for wet seasons, and if you do decide to get ones with Gore-Tex, they can usually be used all year round. It might get a bit warm in the summertime, and in winter you might need to add a warmer pair of socks, but all in all they're a great option if you don't want several pairs. However, if you're too eager to wait until snow or ice has melted, trail shoes from ice bugs are recommended.
Not what you were looking for? Find many more here.
Beginner's guide - How to start with trail running.
And psst.. Don't forget to fuel up on energy before and after your trail run! :)