We're back with another round of product testing!
Sportamore's test group has just reviewed two of today's most popular training shoes to help you make better choices. This time, our test group is a mix of gym passionates, fitness group instructors and CrossFit athletes - all with different ambitions and experiences. We asked them to test two of our most selling training shoes this season: The Nike Metcon 6 and Reebok Nano X1. The shoes have been through rigorous testing in various kinds of exercise. Can they handle both heavy lifting and HIIT training?
Nike Metcon 6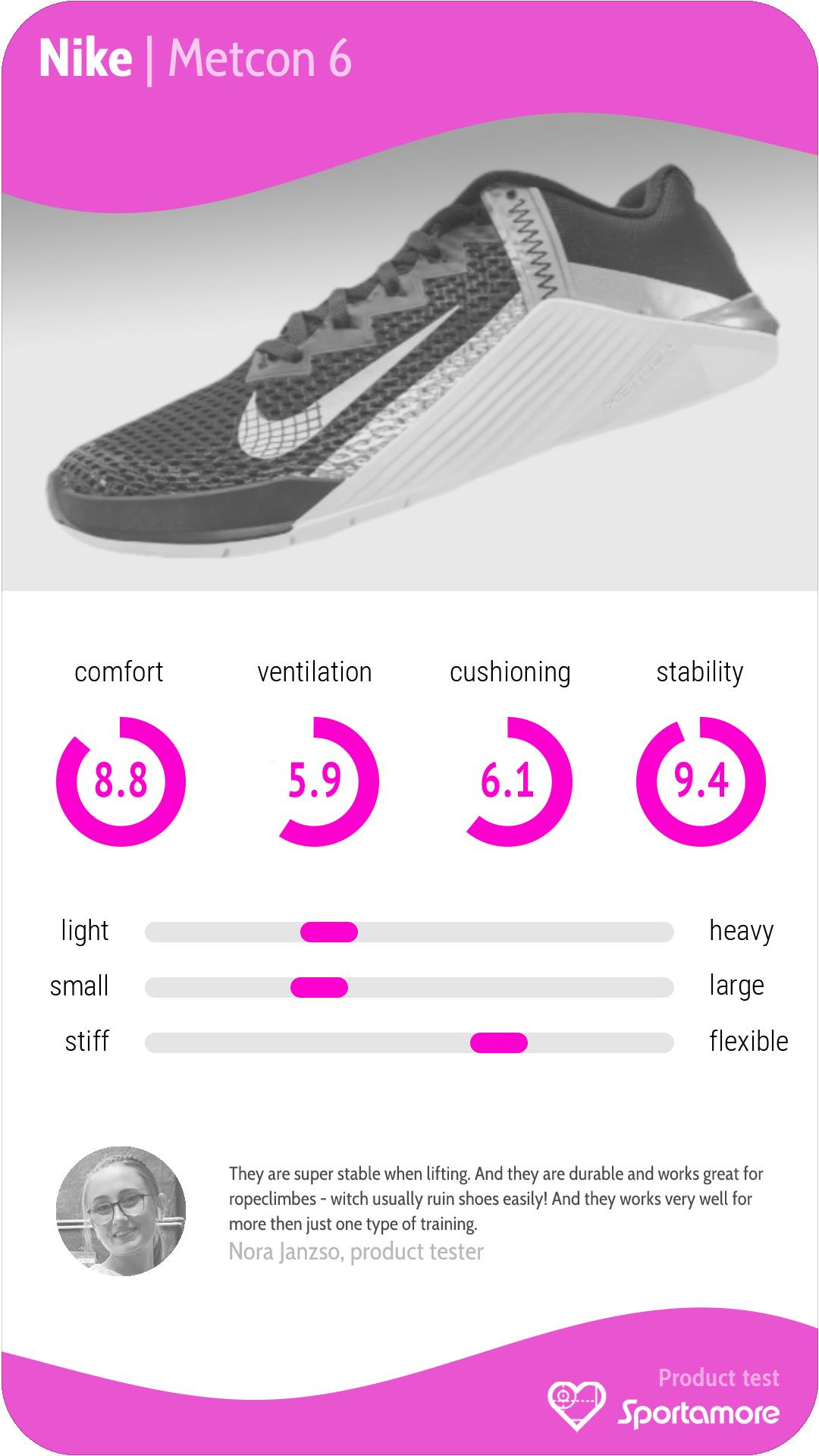 Summary of the shoe
The Nike Metcon 6 is a stable shoe well fit for gym training, CrossFit and lifting heavy barbells. They come in many different colors to match all your daily workout outfits (or moods), and give good support for your feet. Some of our testers got relatively warm during Metcon sessions - we recommend going for a pair of breathy socks to avoid sweating too much.
How it was tested
As it's meant to be a multi-functional training shoe, the Nike Metcon 6 was tested in multiple ways. They've been tested during heavy weight lifting sessions, in fitness group classes, interval training sessions and in exercises such as squats, box jumps and running on an assault runner. The shoe was mainly tested indoors.
The best part of the shoe
Stability and versatility. Our test group has non arguably agreed on the fact that the Nike Metcon 6 is a super stable shoe that gives the feeling of good support. Due to its steadiness, this is a great shoe for weight lifting sessions in Crossfit. They also agree on the fact that they can be used for other purposes such as Metcon training - they are versatile and work well for both strength and cardiovascular training.
What could have been better
The shoes were not very flexible which was noticed during burpees and other cardio exercises. Some of the product testers also mentioned that they were warmer than anticipated - a bit more breathiness would have been desirable to avoid sweating.
Good to know
These shoes come with an extra pair of elevated soles to elevate the heel when lifting or doing other movements that rely on ankle mobility. - It might be an idea to go up between a half to a whole size as they fit quite small.
Reebok Nano X1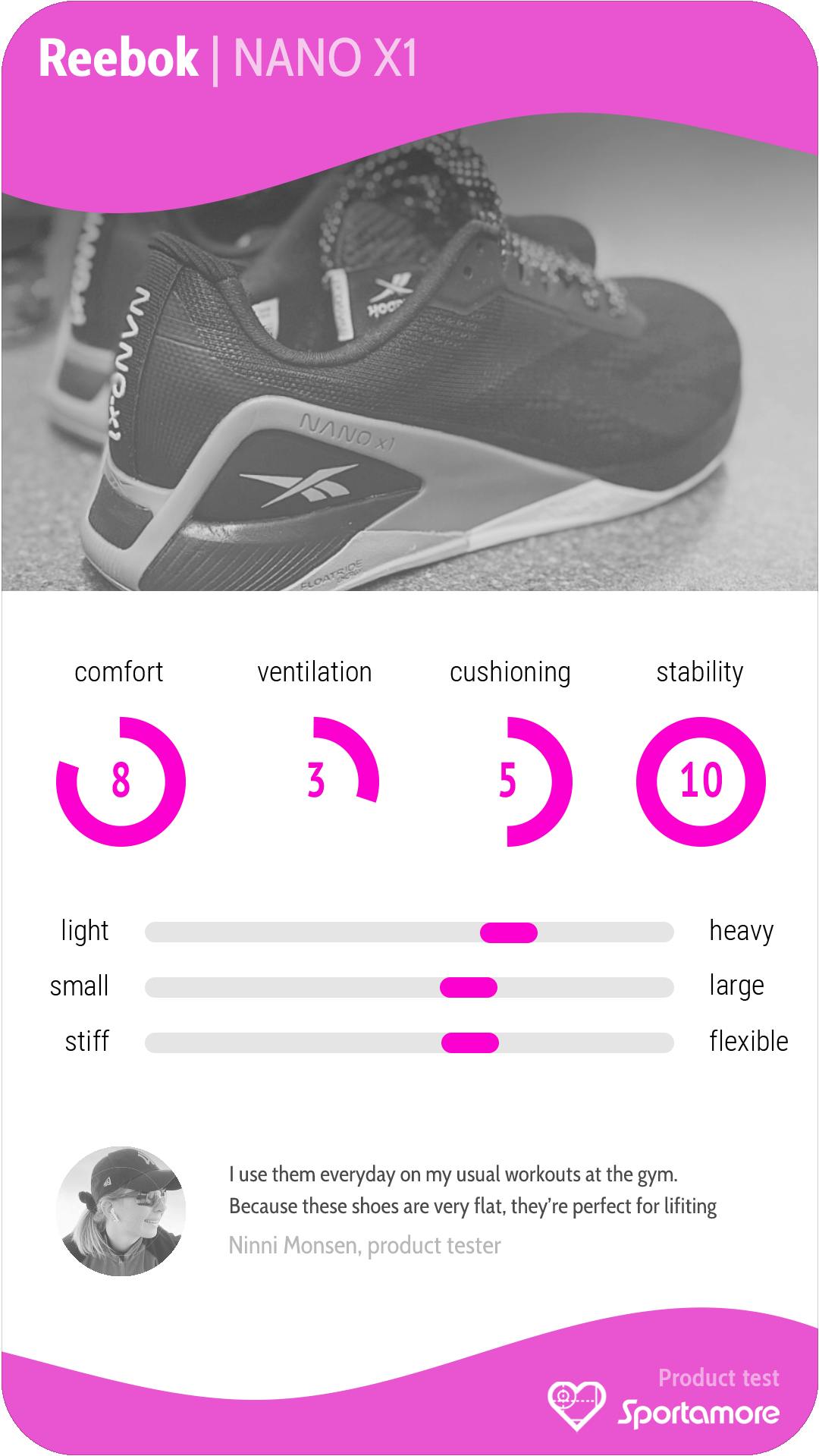 Summary of the shoe
A steady, stable shoe that gives you good support - specifically during weight lifting.
How it was tested
Similar to the Nike Metcon 6, these shoes were also tested in multiple ways. One of our testers described using them "every day on my daily workouts at the gym", during the test period. They were mainly tested on indoor areas.
The best part of the shoe
The Reebok Nano X1 is steady and gives good support. It's described as breathable and perfect for lifting at the gym since it's a flat shoe. Our product testers really loved this one and it is said to be a new "every day gym shoe".
What could have been better
As the back part of the shoe reaches relatively high up your heel, one of our product testers mentioned that she experienced some pain and/or discomfort when wearing ankle socks. We recommend wearing a pair of higher socks to avoid this.
Summary of the test
It is clear that the biggest focus for neither Nike nor Reebok this time has been cushioning or ventilation. But hey, is that really what you need the most in a training shoe? These shoes are both very versatile and give great support to your feet - this might be just what you need for your workouts. They're recommended for CrossFit training which may include both heavy lifting sessions and HIIT training, as well as regular gym training or if you're attending group classes that require a solid stability.