Our Product Testers are back at it - again! This time, they've tested two of our best-selling Running Tights for Summer, Spring and Autumn use. Read on to find out more about the test results and their recommendations for your next pair of Compression tights.
2XU - Fitness Hi-Rise Compression Tights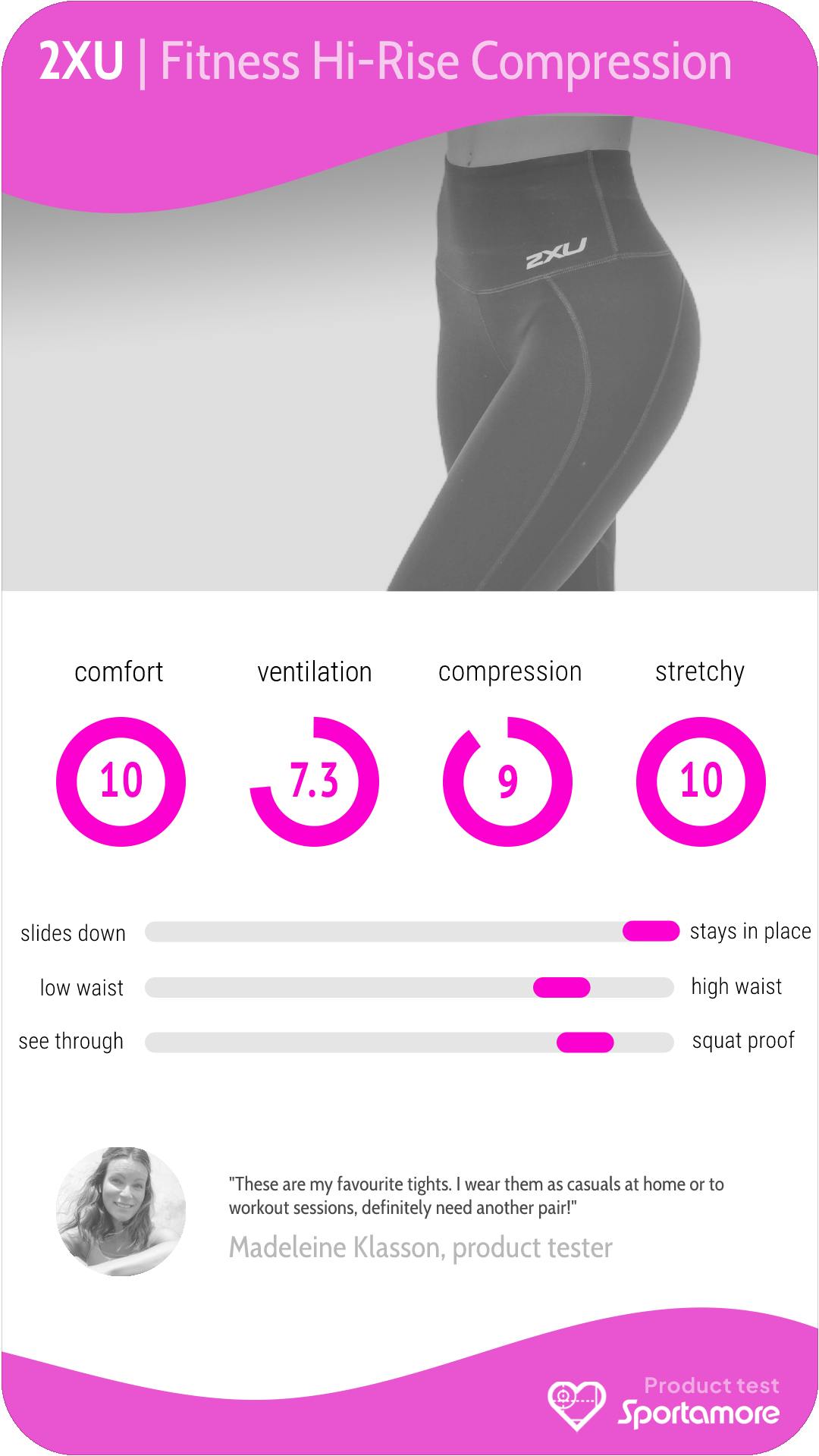 Summary of the tights
These tights definitely delivered among our testers. Good to know is that they can appear small at first, but once in place: the compression really does its job in the best way possible. They stay in place and are high-waisted with a comfortable feeling fabric. They are quick-drying and can be used even on those really warm, humid days (perhaps not on 25+ degrees-days) as they don't feel too hot. Pockets could have been bigger as it's hard to fit anything bigger than a few keys in them, but other than that our testers were super happy with these squat-proof, neat-looking compression tights.
How they were tested
These tights were tested mainly on different kinds of runs (longer, shorter, on country and city roads), but during other activities as well such as yoga, padel, power walking, weight/strength training and even hiking. The test period lasted over 4 weeks.
The best part of the tights
The compression. Our testers describe these tights to be very comfy in their material, and with a slightly lighter compression than what some of them were used to: "They compress the muscles, but you are free to move your legs in any possible direction without any constrictions. Your body really benefits from it". Even during hot and humid summer days, these were not too hot to wear. Our test panel also describes them to properly stay in place and appreciate the small pocket with the zip: perfect to keep your keys.
What could have been better
Even though some of them appreciated the small pocket (big enough to fit your keys), some of our testers wished that it would have been bigger to fit their smartphone. After all, your phone can come in handy in many ways during your runs. Like most tights, they appear a bit long for shorter people.
See 2XU Fitness Hi-Rise Compression Tights here
See 2XU Running Compression Tights for men here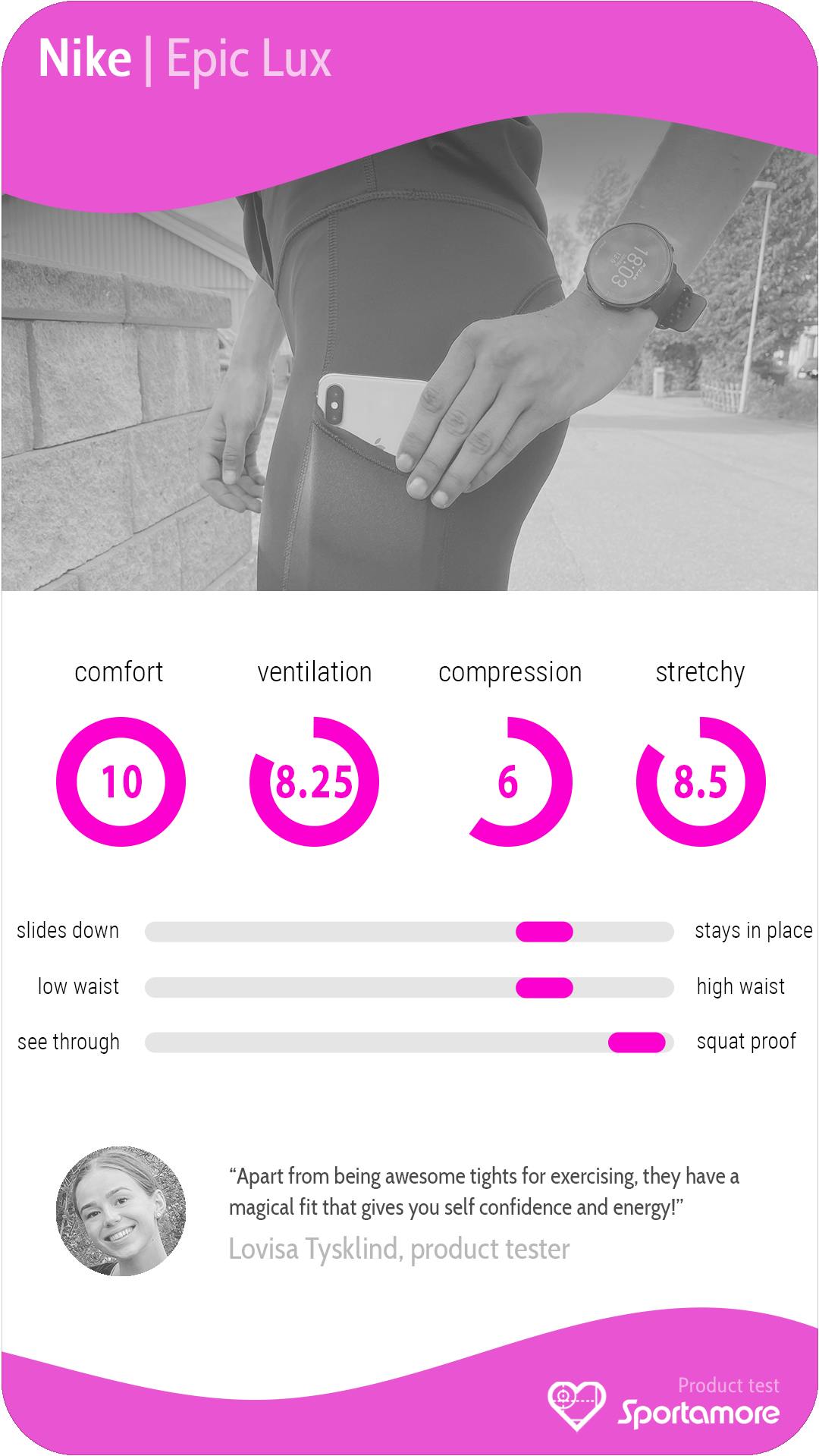 Summary of the tights
All our testers were really happy about these tights. They are described as flexible and adaptive after your body type, as well as super (!) squat proof. The tights have large and useful pockets which makes it possible for you to carry all your essentials with you without causing any discomfort. Our testers would have wanted a higher score on the "stay-in-place-factor", as well as more compression. However, these tights work for both running and training, and let's forget: the great, neat-looking design makes them perfect for everyday wear - even outside your running sessions.
How they were tested
Similar to the 2XU, these tights were mainly tested during running sessions. However, our testers really appreciated the looks of these tights and wore them a lot like casual streetwear fashion as well. The Nike Epic Lux were also used for full body exercising outside and inside. The test period lasted over 4 weeks.
The best part of the tights
The comfort! These tights felt like "putting on a second layer of skin", and as mentioned, quite a few of our testers used these outside of their running sessions as well. They really appreciated the seamless design down by the ankles, as well as the fold-over front waistband. Almost all testers mentioned the big pockets that could fit a smartphone, keys and cards without a problem. No need to worry about hiding your stuff in the forest before your run anymore! What was also highly appreciated was the ventilation and the breathiness of these tights. During a few very hot summer days our testers mentioned this was very helpful and that the ventilation really helped.
What could have been better
How contradicting it may sound; the ventilation. Even though they mentioned the breathiness of the tights was helpful, they were simply too hot to run in on those really warm, humid days. Furthermore, they tended to slip down a bit while running if not tied hard. Some wanted more compression, and some think that a smaller waist would have helped with this.
Header image: Lovisa Tysklind, @lovvvisen