A few years back, Salomon's bag designers sat down with female trail runners to learn more about their experiences as professional athletes. They were surprised to hear that so many of them had quit their race simply because they had discomfort from wearing a backpack. The biggest issue discovered was skin abrasions caused by their backpack moving around while running - i.e backpacks not suitable for women's bodies. Salomon thought this was unacceptable and decided to change this. Read on to find out more about this season's new approach - female-friendly running packs.
First off: How far are you planning on running?
Before going into the details, we recommend choosing your bag according to what distance you're planning to run. The number you see after all the bag names in this article refers to the "liter size" of the bag, meaning the combined volume of pockets and storage areas on the backpack, not the amount of water carried in the flasks. The more items you plan on carrying on your run, the more volume you'll need in your bag. If you plan on running less than 60 km, going for a 5-liter bag is usually enough. If you're training for an ultra-distance race such as the 170 km (or even the 80 km ones), you might want to go for a 10- or 12-liter bag.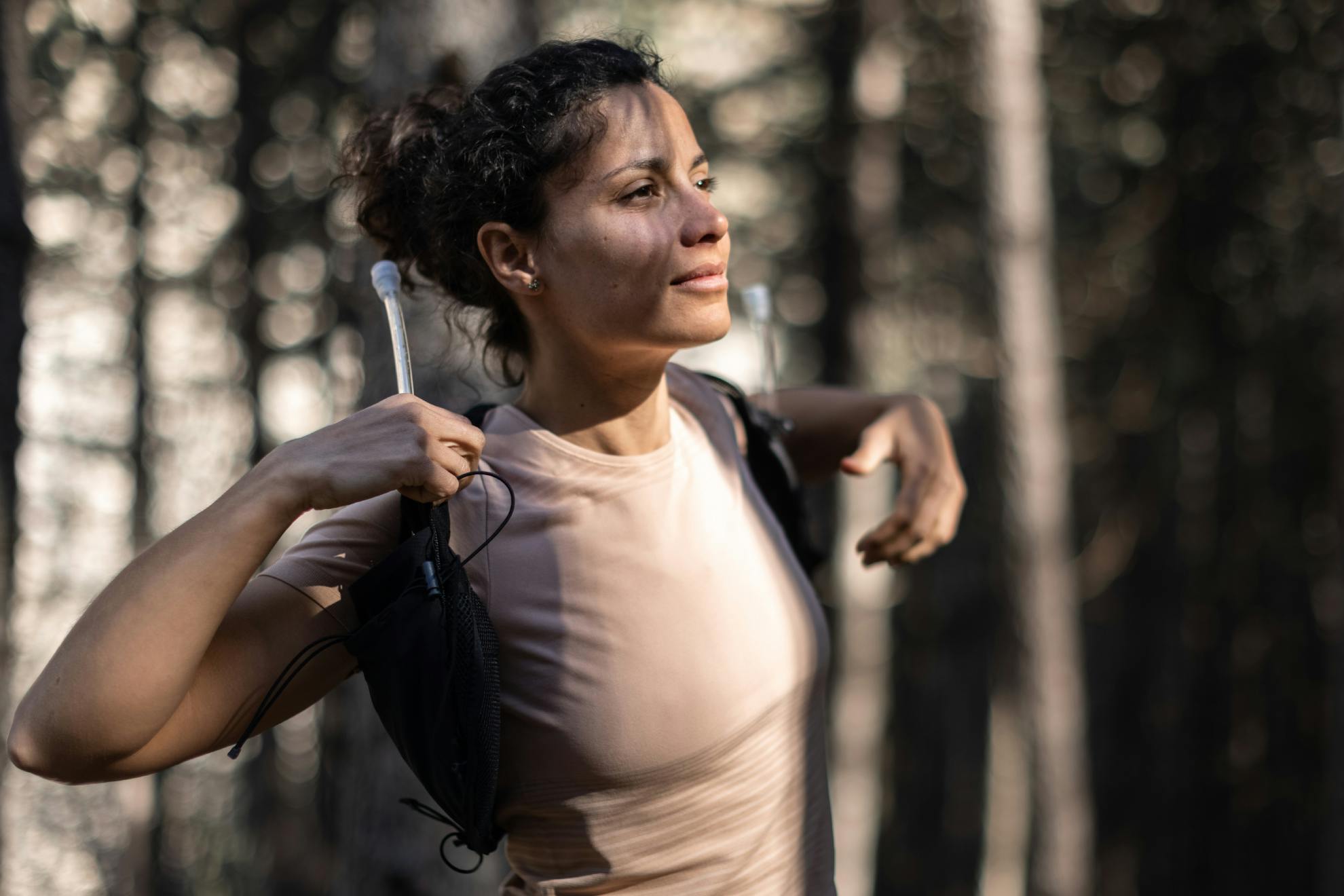 For this season, Salomon has released three running pack models, each in various sizes and each with a women's specific model.
The Sense Pro
Designed to stay closer to your body. Perfect for runners looking for a fast, light and high-performing pack, These packs feature a totally new, more comfortable design that makes it easy to access your trail essentials - all so you can push your run farther and faster. The women's specific design is more elastic and offers more space around the chest. The hydration pockets are also placed lower for better comfort. The Sense Pro's have front flask pockets, secure pockets, a voluminous back compartment and a tunnel pocket all around your body (we love this, how handy to be able to reach your equipment on the go?!). The women's soft flasks have a specific design (including a convenient straw that you cut to your preferred length), and the Sense Pro sets for men come with two 500 ml Speed Flasks.
The Sense Pro: Available in 5 liters and 10 liters.
The Advanced skin
The Advanced Skin packs were the first vests with women's specific design. Similar to the Sense Pro bags, these have a unique shape that places the soft flasks below the breasts to eliminate any pressure when cinched down. To further reduce pressure on the breasts, the specific MotionFit design for women is constructed in a two-way stretch manner for maximum comfort. These packs are available in one women's specific model (the Advanced Skin 8), as well as two men's models (Advanced Skin 5 and Advanced Skin 12). They all come with two integrated 500 ml standard soft flasks in a unique shape to ensure your complete comfort as well as balance for your gear while running.
The Active Skin
A pack for hikers or runners going on adventures. This performance kit utilizes fabrics you might find on a backpack, but with a vest construction. Inspired by professional trail runners, these packs are made with moisture-wicking materials, soft fabrics and a closure system both elastic and easy to use. If you're looking for comfort and freedom of movement in your race, you might have just found your match. The Active Skin packs come with two 500 ml soft flasks.
The Active Skin: Available in 4 liters and 8 liters.
What about the flasks?
Yep, these do come in women's specific design as well. Creating new backs better suitable for women's bodies also meant recreating the shape of the flasks as well as the straw to drink from. The shape of these new women's specific flasks has been improved to fit under the breasts (men's are still placed on the chest). The women's specific flasks (500 ml) also come with a long straw which can be cut down to the preferred length. If you want to know what length of the straw is best suitable for you, simply fill your flasks, put them in your running vest and try it out! Make sure it's not too long as this might cause swinging when running, i.e. make you uncomfortable.
More about the flasks…
There are plenty of ways to carry your water during your runs.
- Flasks in the chest pockets of a running pack
- A water bladder with a drinking tube in a hydration pack
- A water bottle belt or pack
- A flask or a water bottle in your hand
- A thermal flask - recommended for extreme temperatures.
Soft flasks
Super convenient as you don't need to take them out to drink when running. You simply place them in the chest pockets of your running pack, pinch the nipple acting like a bite valve and then suck. Two 500 ml flasks allow for an even distribution of the water weight and when needed they are easy to fill thanks to their large opening. Extra pros: Soft flasks are usually BPA-free and reusable.
See all Salomon Soft flasks in different sizes here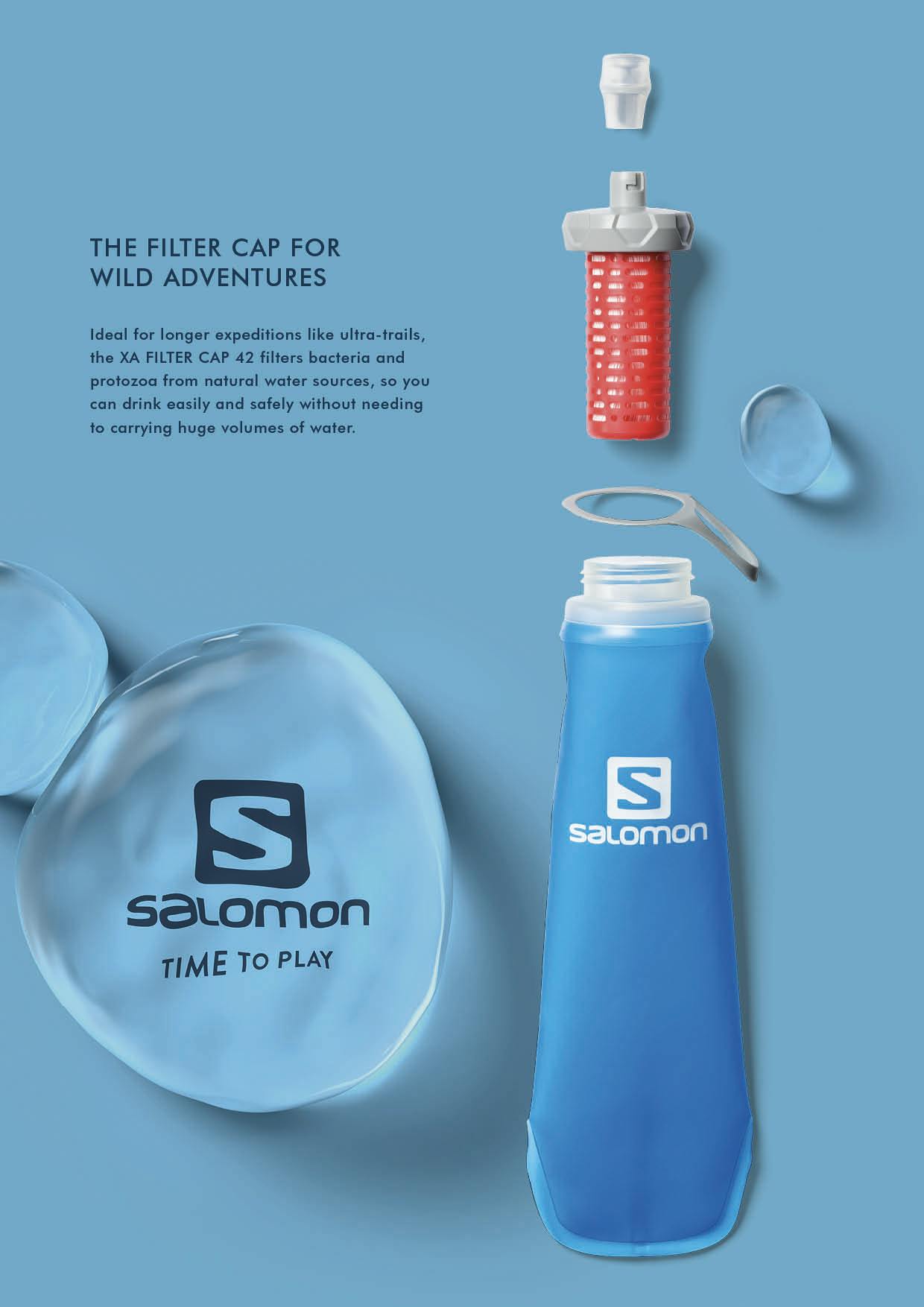 Water bladders
Another common way for runners to stay hydrated is using a water bladder that's placed in the main compartment of their hydration pack. Inside or along their shoulder strap runs the drinking tube which allows drinking without stopping. If you're super serious about your time, you might want to use a soft flask as filling these water bladders requires you to take your pack off. In addition to that, it's also more difficult to keep track of your water levels while running.
How to drink during your runs
Start hydrating in advance. Now that we've covered how to carry your water, let's focus on how and what you should drink. First off, it's important to start hydrating well in advance. The recommended amount of water to drink per day is 1.5-2 liters. Start tracking your hydration at least three days before a race and remember to increase the amount if you're running in hotter temperatures.
Pay attention to thirst. A common mistake is drinking too systematically. Instead: try paying close attention to what your body is telling you, and drink when you're feeling thirsty. Not feeling any thirst at all during the first hour or so of your run is common, but if you drink as soon as your thirst hits you, you should be safe from getting dehydrated. Instead of only putting clean drink water, spring water or mineral water in your flasks/bladders, a good idea is to put pure water in one of your containers, and a hydration drink in your other. Hydration drinks supply your body with mineral salts (electrolytes), as well as vitamins and carbohydrates. These are isotonic and more easily assimilated by your body.
Don't overhydrate. The reason why drinking too systematically might be a mistake is that it might cause overhydration. Symptoms like confusion, digestive problems, and/or stomach pains might in fact be that you're overhydrated. We repeat: try not to drink too systematically and avoid drinking water in too large quantities. Drinking small amounts of water whenever you feel thirsty is the safest way.
Keep on hydrating after your race. Don't forget that your body needs water even after finishing your race. Continue to track your hydration levels and hydrate with recovery drinks.
See the entire Salomon Hydration collection here