Kari Traa - the leading brand within base layers for women in Scandinavia.
What makes it so great? Not only is it made in a vibrant-looking design and with great functionality regarding regulating heat and wicking moisture, but what makes Kari Traa so unique is that all base layers are developed, sewed and made specifically for women. It has a wider site cut than other traditional base layers on the market, as well as extra space for the bust. Kari Traa is made for women - by women.
Colder seasons are upon us, and for a lot of us, that means changing into warmer layers. For years, Kari Traa has been dressing according to the three-layer principle* which places wool on the inside. Even though they are in constant search for other technical fabrics, their Merino wool has been proved unbeatable with its natural benefits. Below are four reasons why investing in a Merino wool base layer is a good idea.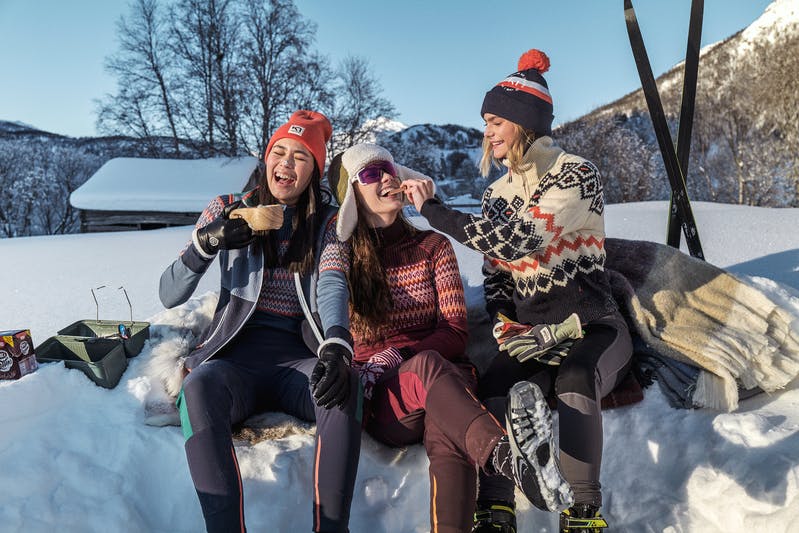 *The three-layer principle, well known and often necessary for sudden weather changes. The first layer consists of a base layer to insulate body temperature and wick moisture. The mid-layer is an additional warmth-insulator, while the outer layer is meant to protect you from rain and wind.
1: Perhaps the most obvious: it keeps you warm!
In comparison to synthetic materials, wool has the power of insulating warmth - even when it's damp. As a matter of fact, wool can actually hold up to 35% of its own weight in moisture before it creates a wet feeling. Wool is perfect to avoid that freezing sensation after you've sweated up that hill or during your winter run.
2: It also keeps you not warm…
Okay, we know how contradictory this sounds, but wool does not only have the ability to absorb moisture and initiate a process to generate heat when it's cold out - but also keep you cool when it's hot. In warm temperatures, wool ensures that your body temperature stays cool. "How?", you may wonder. The answer is in the same way our body works - through evaporation. Because of its temperature regulation quality, wool is a great option for warmer days as well, just change into a thinner layer. [Image] When choosing your base layer, go for a size fairly tight so that adding other layers on top becomes easy when necessary.
Rose Pants. Available in high waist, regular waist and Capri - all in multiple colors.
3: It's self-cleansing and prevents odors
Yep, you read it right - self-cleansing! Wool is fantastic in that way, it has a natural resistance towards the growth of bacteria and microorganisms. This means your wool garments can be worn for several days in a row without giving off a bad smell. You're safe to wear your wool base layer even after running or skiing for a whole day, that is.
4: It's super comfortable and feels smooth against your skin
The kind of Merino wool Kari Traa uses in their base layers has thinner and longer fibers than other types of wool. Base layers such as Rose, therefore, give off a silky smooth feeling against your skin. They're just as great for a night on the couch as for a hike up a mountain!
Meet Rose. Made of 100% Merino wool.
Wool is probably one of the most sustainable materials in clothing. Being 100% natural and renewable, it needs some extra love when it comes to washing, though.
Wool should be hand washed
First of all, did you know what wool is actually self-cleaning? Yep! You can "air it out" instead of washing your garments in the machine every time. As wool has a natural resistance to bacteria, i.e. odors and the growth of microorganisms, you can use your wool base layers for several days without worrying about a bad smell. Hang it outside in the open air to let it breathe and clean itself to save both the environment and the quality of the wool.
However, if you do need to actually wash your wool garments, the most gentle way to treat and preserve your product is to hand wash them. If you find a stain, remember to remove it as soon as possible to avoid any sticking. Don't do any spot treatment - instead, hold your base layer under running, lukewarm water until it disappears.
If you have a wool program on your washing machine, this is also an alternative to hand washing. Make sure to always use a wool-friendly detergent to maintain good quality. Should you be unlucky and use a non-wool-friendly detergent, shrinking can occur. If this happens, you can stretch your clothes carefully after washing them to help retain their original shape.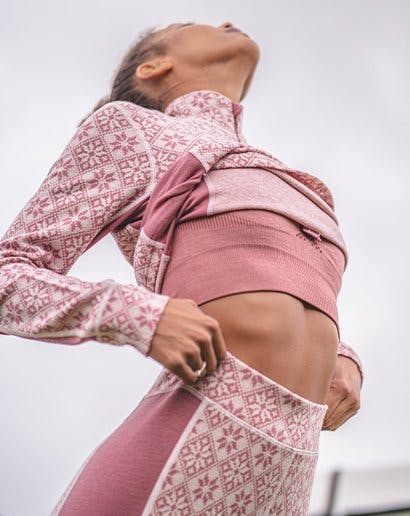 Storing your wool garments also needs love
If you live in a place where summer means no-wool-season, you might want to pack away your winter wear when hotter months arrive. In order to avoid insects such as moths when storing your clothes, be careful with how you pack them. The most important thing is to store your wool clothes in something that is dense to make sure that your wool doesn't become a victim of condensation during temperature changes. Pack your clothes when they are clean and dry.