Which one should you go for? How do you know when to choose a running backpack, a vest pack or perhaps just a belt?
Running belts, hydration vest packs and running backpacks are all common equipment for trail running. Choosing the right one for your specific occasion can sometimes be tricky. Say no more - together with Salomon, we're here to guide you!
Your choice of equipment should first and foremost depend on the distance you plan on running.
Runs under 1 hour:

For short, urban runs you likely won't need any of the suggested alternatives. If, however, you're running in high heat or if you feel that you for any other reasons need to carry water, a running belt could be your choice of item. In such cases, you could also go for a vest that will carry up to 2 litres.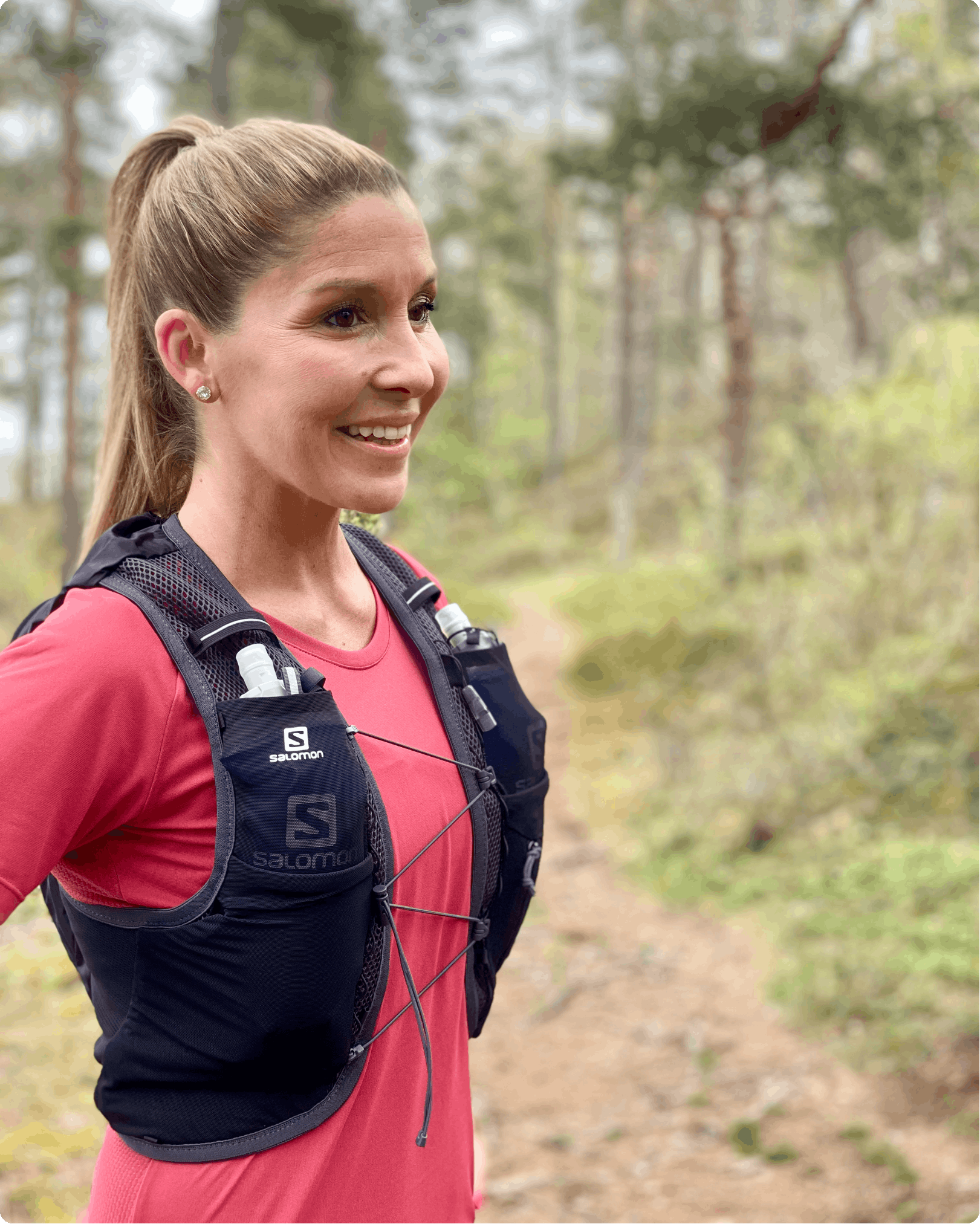 Active Skin 8 - made specific for women. See here
Runs 1-2 hours:

Here's when a hydration vest pack truly comes in handy. If you conisider yourself a more experienced urban trail runner, we recommend looking for one that will carry between 2 to 5 litres of water. That should be more than enough to insure you stay hydrated.
Hydration vest packs are specifically designed for running. With these, you won't need to worry about any of the annoying bouncing as they're made to fit snugly on your body to limit movement while running. A classic multi-activity backpack is more versatile but could quickly become annoying and if you're really unlucky, lead to chafing issues. For mid-long runs you most likely won't be in need of the extra functionality that a backpack offers. A hydration vest is a safe bet to make sure you're hydrated and comfortable.
Runs 3 hours or longer:
A hydration vest might just be sufficient even for runs longer than 3 hours, just remember that a longer run requires more water so make sure to choose one that can carry between 6 to 10 litres. If you're running ultra trail or off the beaten track you should have room for atleast 12 litres.
Depending on how long you're planning to run, it might be worth considering to bring an actual backpack. In comparison to road runners, trail runners need to be more self-suffiient on their runs. As a matter of fact, it's not just a question of hydration levels, but also being conscious of your own safety. On longer runs, you need to properly consider your sorroundring and the environment to bring appropriate supplies. Some races even require a list of gear and equipment for safety reasons.
In conclusion:
Runs under 1 hour: Belt or vest that can carry up to 2 litres.
Runs 1-2 hours: Vest that can carry up to 5 litres.
Runs 3 hours or longer: Vest or backpack that can carry 6 to 12 litres.
Ultratrail: Backpack that can carry atleast 12 litres.
If you compete: don't forget that you might encounter aid stations that offers drinking water, perhaps you don't need to carry as much water as you think.
SHOP: See all hydration belts, vests and packs from Salomon here
MORE: Discover all from Salomon here