Choosing the optimal jacket for adventure x or adventure y is not always as easy as it sounds. Haglöfs, experts on Outdoor clothing and equipment, are constantly seeking progress in how they produce weather resistant garments. Read about some of their best sellers and learn when and where the different models are most suitable.
First off, let's look at the newest jacket:
Micro Nordic Down Hood - Keeps you warm in all weathers
Recommended for:
Hiking
Climbing and mountaineering
Skiing & Snowboarding
Ski touring
Lifestyle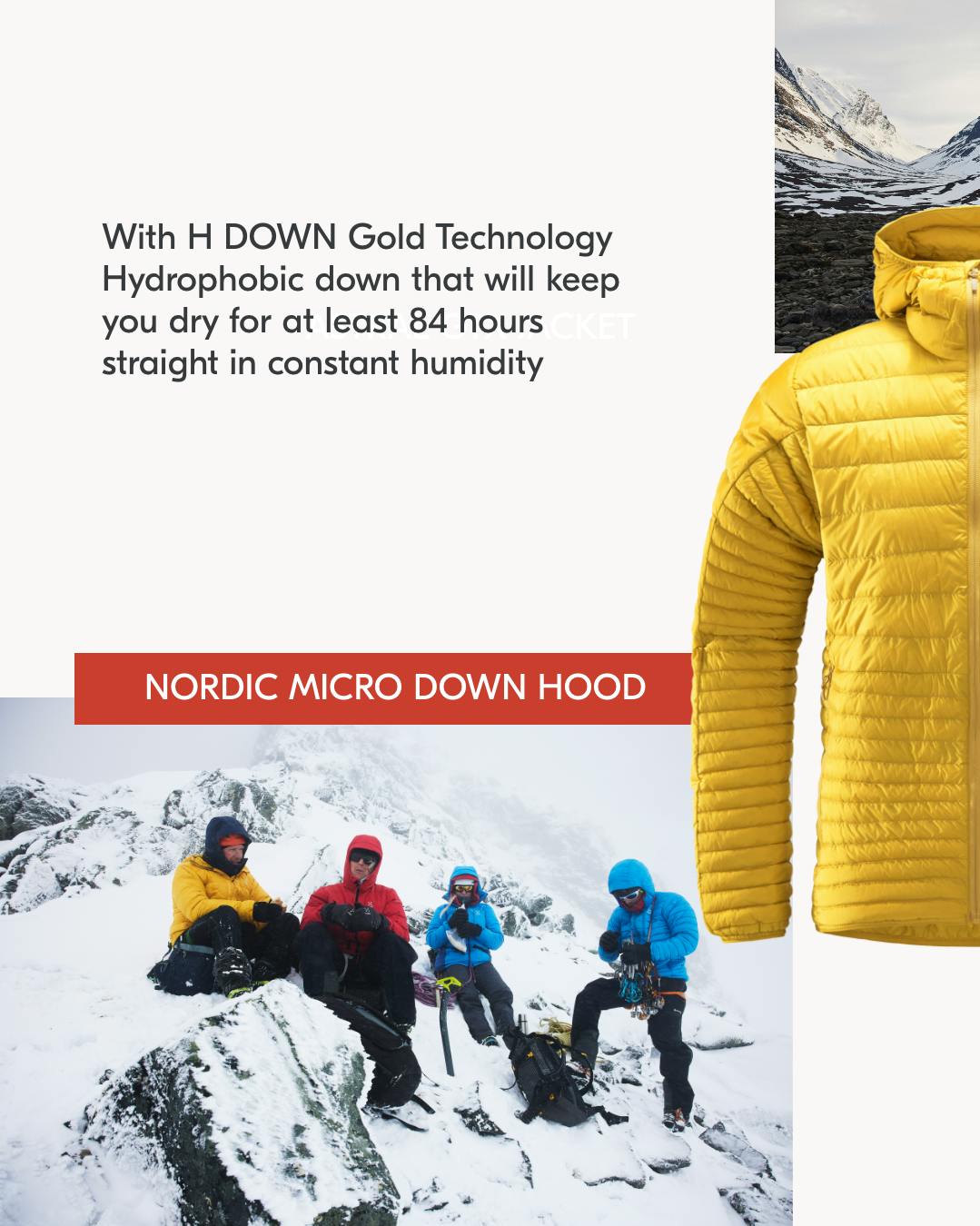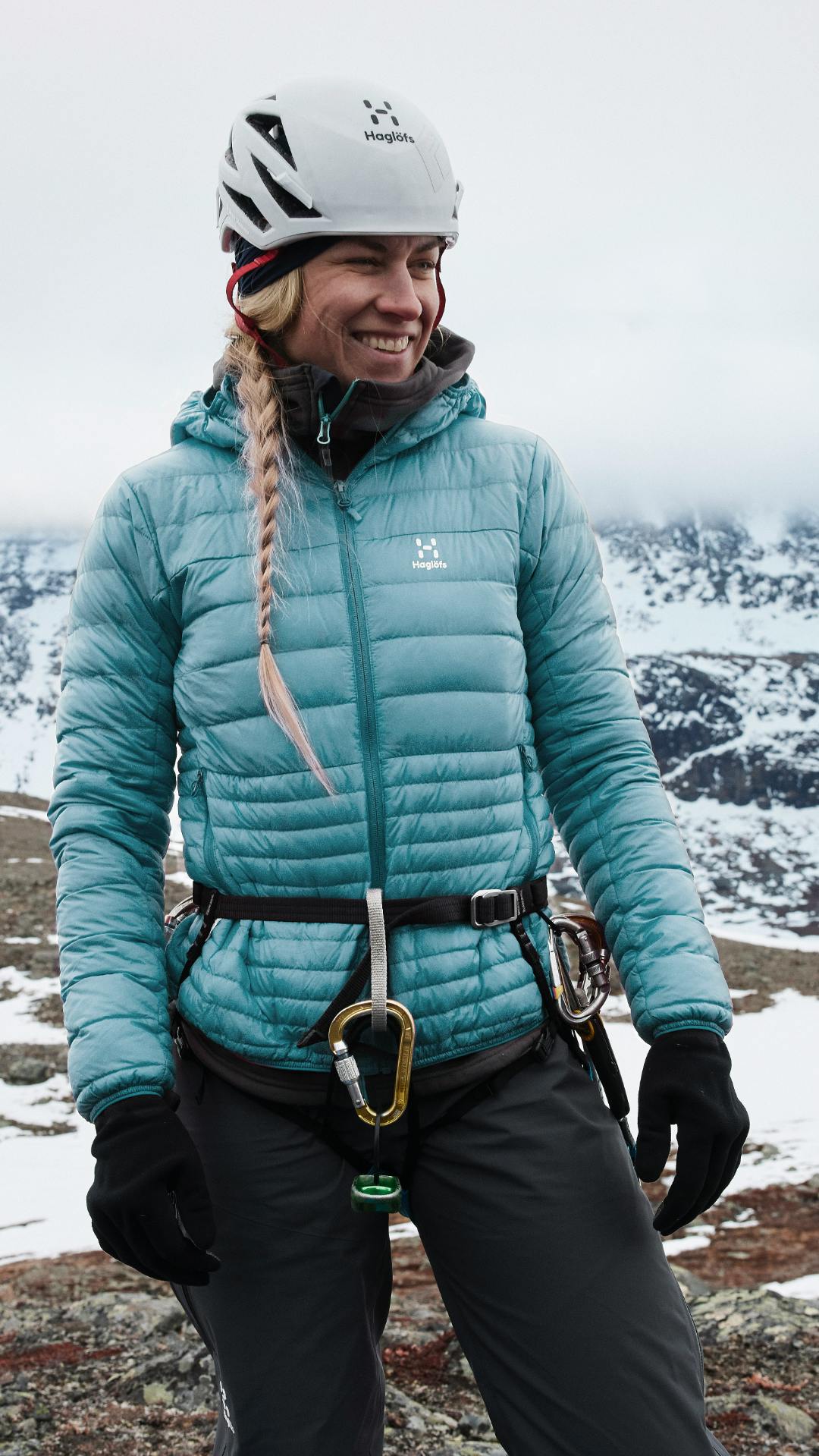 This jacket combines a modern, urban look with impressive functionality and heat performance that's not affected by bad weather." - Paul Cosgrove, Global Product Director, Haglöfs.
For a versatile garment to be actually useful, it needs to perform at least as good as specialised clothing, but in multiple situations and environments. With a clean design and uncompromising construction, the Micro Nordic Down Hood is uniquely versatile. If you're seeking a reliable partner for your outdoor adventure, this might just be the one.
The design features a distinct minimalistic style to maximise the heat-to-weight ratio. Made with H DOWN Gold technology, its high-quality DWR-treated down is waterproofed so well that the filling stays dry for up to 5000 minutes of wet exposure conditions. No need to worry about not staying warm and dry - not even on multi-day excursions. Under the arms, you'll find 100 % recycled polyamide insulation Mimic GOLD, resulting in less bulk and better breathability. Micro Nordic Hood comes with an elasticated hood, hems to keep wind and water out, two hand pockets and a chest pocket.
Use when: It's really cold out and/or you want a jacket that's trust worthy for several days in a row.
Astral GTX - A jacket to rely on
Recommended for
Hiking
Skiing & snowboarding
Lifestyle
Shop Astral GTX Pants for a full set
A fully adjustable jacket to make it follow your movement, whether you're skiing in the mountains or hitting the trail. This jacket is ventilated, lined with mesh for breathability and moisture management, and has a 2-layer GORE-TEX material to keep you protected. It has two zippered hand pockets, one zippered chest pocket as well as one zippered inner pocket. If you're going skiing, place your ski pass in the ski pass pocket on the arm.
Use when: going on most adventures, really! If it's really cold out, you might want to add layers underneath to keep warm.
Mila Rain Jacket - Light weight and waterproof
Recommended for:
A light weight, waterproof and breathable rain jacket. Mila features a 2-layer proof fabric, yet has a soft touch for maximum comfort. It's made with a mesh interior to improve breathability, has two zippered hand pockets and an adjustable hood with reinforced visor for even better protection.
Use when: you're heading out in the rain or generally just really wet conditions. This one works just as well out in the nature as in the city!
L.I.M Jacket - Lighter than you think!
Recommended for:
The L.I.M Jacket - made from GORE-TEX Paclite® plus that will provide performance and protection needed in the wilderness. Like you would imagine the heavier, well equipped shell jacket - just without the unnecessary weight. It has water-resistant zippers throughout, a 3-way adjustable hood with a reinforced and laminated peak as well as an extra-sleek and laminated inner placket. Last but not least the L.I.M has reflective details for good visibility when darkness falls as well.
Use when: going out for a run or a lighter hike - even if it's raining or is dark.
See more from Haglöfs here